The world's best sneakers?
Norsk versjon 🔗
Adidas has made their Stan Smiths since the 70s, and you can see them everywhere all summer. They are good-looking shoes, but where the earlier versions were made in France and had high quality, you can't quite say the same about the newer ones made in India. They can't be fixed, uses synthetic materials and someone would prefer a bit more modern design.
Common Projects
In later years, Common Projects, with their golden lettering, has taken the sneaker world by storm. With a more modern, minimalistic design, Italian leather and good Margom rubber soles, they aren't cheap.
But when you pay well over £300 for a pair of Italian designer shoes, you can expect excellent quality, right? Well, it's superior to the Stan Smiths, but for the price you could do better. The YouTube channel Rose Anvil goes into detail in this video, but the short version is that, while the shoes have some premium features, both the material and construction is pretty mediocre. In this article, I'd like to point at a brand that gives you a more premium sneaker, at a (slightly) lower price.
But in the end I will also share why I still understand why someone would opt for the Common Projects!`
Crown Northampton – proper stuff
This brand has been making hand made shoes in Northampton, England for over 100 years. All their shoes are mad to order, so there's no overproduction to speak of. They can also accommodate custom wishes, like making them wider (great for me!) or adding text on the inside.
The materials and construction are also rock solid:
At the bottom you have a great rubber sole, that can be replaced time after time as needed. Inside it there's a layer of foam that wicks sweat and stops squeaking. On top of this, there's a thick piece of fibreboard, that'll adapt to the shape of your footbed. In addition, you'll get the soles in the picture below and also another layer of foam you can put under it if you want to raise your foot even more.
Both the inside soles and the entire inside of the shoes are covered in comfortable leather. There's also a clever detail at the heel: They've added a second layer of leather, with the rough side out. This increases the longevity and decreases slippage.
The rough-out part of the heel, and the written text you can customise.

They've saved the best leather for the uppers. The regular model has full-grain calfskin. I've gone for a variant made with kudu leather, which by the way seems like one of the more ethical types of leather. The kudu antilope has never been domesticated, so all the animals are wild. However, South Africa has problems with overpopulation, so the leather comes from the government mandated culling.
Calfskin on the left, kudu leather on the right. Notice the pattern on the kudu leather. I like it, but the calfskin is more minimalistic.

I'm talking about the base model from Crown Northampton, by the way, and they cost £225 (excluding VAT). So, they are cheaper than Common Projects, while maintaining way higher quality. There's a reason they won «Best Overall Sneaker» when Rose Anvil cut numerous sneakers in half to find out how they really were made.
So to sum it up, what's so great about these sneakers?
They look good – both as new and with patina
The uppers are made of truly great leather, so they'll last many years
…which makes it great that they can be resoled when needed
They are very comfortable, especially when broken in – and can also be used barefoot
Ethical production
However, I can think of a few negatives as well.
A thick piece for fibreboard is still fibreboard, and a leather midsole would've been better. And while the shoes have their price for a reason (they are never on sale, since they only charge what they need) £270 is a lot to spend on a pair of shoes! Even if you argue they'll be cheaper than many shoes if you divide the sum with years they'll last, it's a big shell initially. Another challenge, is that you have to order them online without the ability to try them on. In my experience, they are very helpful over email and generous with returns to get the right size – but still. Furthermore, you have to be patient when ordering. Since they are made to order, they have to be … well, made. At the time of writing, the wait time is about 45 working days.
But all this points towards why these shoes are the anti-thesis to fast fashion: You can't get them immediately, so no dopamine hit for you! However, you'll get a pair of shoes that'll never go out of style, that'll last for years and that only cost what they cost based on the production and materials used – without any add-ons due to the brand or hype.
So, why would anyone buy Common Projects when these exist?
First of all, Common Projects are not bad shoes. Also, the design is really good, and they have a sleeker profile than the Crown Northamptons. However, when looking at pictures of my shoes, keep in mind that my feet are tall, wide and short – and this leads to both me not fitting Common Projects at all, and also makes the Crown Northamptons I have look less sleek. If you can find Common Projects on sale (which you often can do, and that says something about the list price, IMO), it's not neccesarily a bad buy, just know that you're paying for a specific design.

My girlfriend's white Overstone Derbies looks sleeker than mine. But still not as sleek as Common Projects.

The shoes on the picture below, represents another reason I understand that people buy Common Projects:
The leather has gotten some care after this photo was taken, I promise!

These are a pair of "Indy Boots" from Alden – and I love them. But if you were to evaluate the materials and craftsmanship, it's impossible to justify the price. However, there's just something about the design I really like, and they fit my (difficult) feet perfectly.
In the same way, the Common Projects has some neat details and a great silhouette, that I understand that some people love. I just want people to know, like I did with my boots, that they're not "worth it" – whatever that means.
So, this concludes my most important points – you can stop reading now if you like. However, if you want more details on the sneaker range from Crown Northampton, allow me to elaborate!
Crown Northampton's selection
There's a couple of basic variants:
Overtone Derby is the most basic, while Abington Toe Cap is similar, but with a toe cap. Upton Wholecut uppers made of one piece of leather, so has a different look. Overstone Derby and Upton Wholecut also comes in TL variants, which means less cushioning and thinner leather.
TL vs regular
My story with these shoes are as follows: I bought a pair of regular Overtone Derbies in size 40 (wide). I used them for a year, before I had to confess that they were too small. However, I loved them so much, that I took the L and ordered another pair in 41. I was curious about the TL variant and kudu leather, so I ordered this. Here are some photos of those, compared to my Overtone Derbies with calfskin – which I still have lying around, so email me if you'd like to buy them!
I didn't like the TLs… It seems like they kept the outer measurements the same, but with less padding, it made them fit a lot looser. While they'd might fit me in a non-wide size, I also didn't like that the silhouette had a taller ankle height so I returned them for a regular Overtone Derby, but with the kudu leather.
TL on the right. Here it's easy to see the taller ankle height.

The TLs (again on the right) is very wide, and you can see the lack of padding.

Inside the TL.

The lack of padding made them way too wide.

The regular model in front is used for a year, so you can see what kind of patina to expect. Also, notice the padding on top of the shoe, that the TL lacks.

A rerun of a photo from earlier, showing off the difference in silhouette.

These are the shoes I went for, a combination of the two from above: Regular Overstone Derbies in kudu leather. Used half a year. I love them!

No compromises.
Shell Cordovan. 🤤 Picture from Crown Northampton.

Even though Crown Northampton's base model are great shoes (and probably the best you can get for £270), they've shown they can make even better shoes. You see, they have a series called Harlestone Hand Stitch, that's just bonkers. They have footbeds cork filled by hand, and sustainable soles from Lactae Hevea. They're also made with traditional oak bark counter and stiffener, and in general have more hand made touches. The regular version has vegetable tanned calfskin, but if you want to go all the way, you can get them in shell cordovan! Take a look at Rose Anvil tearing a pair of these apart in the video at the bottom – they are simply unbelievable. He also compares a pair of Harstone Hand Stitch to a pair of Common Projects, which cements my point:
*Even though good quality can be costly, it doesn't mean everything that's costly has good quality.*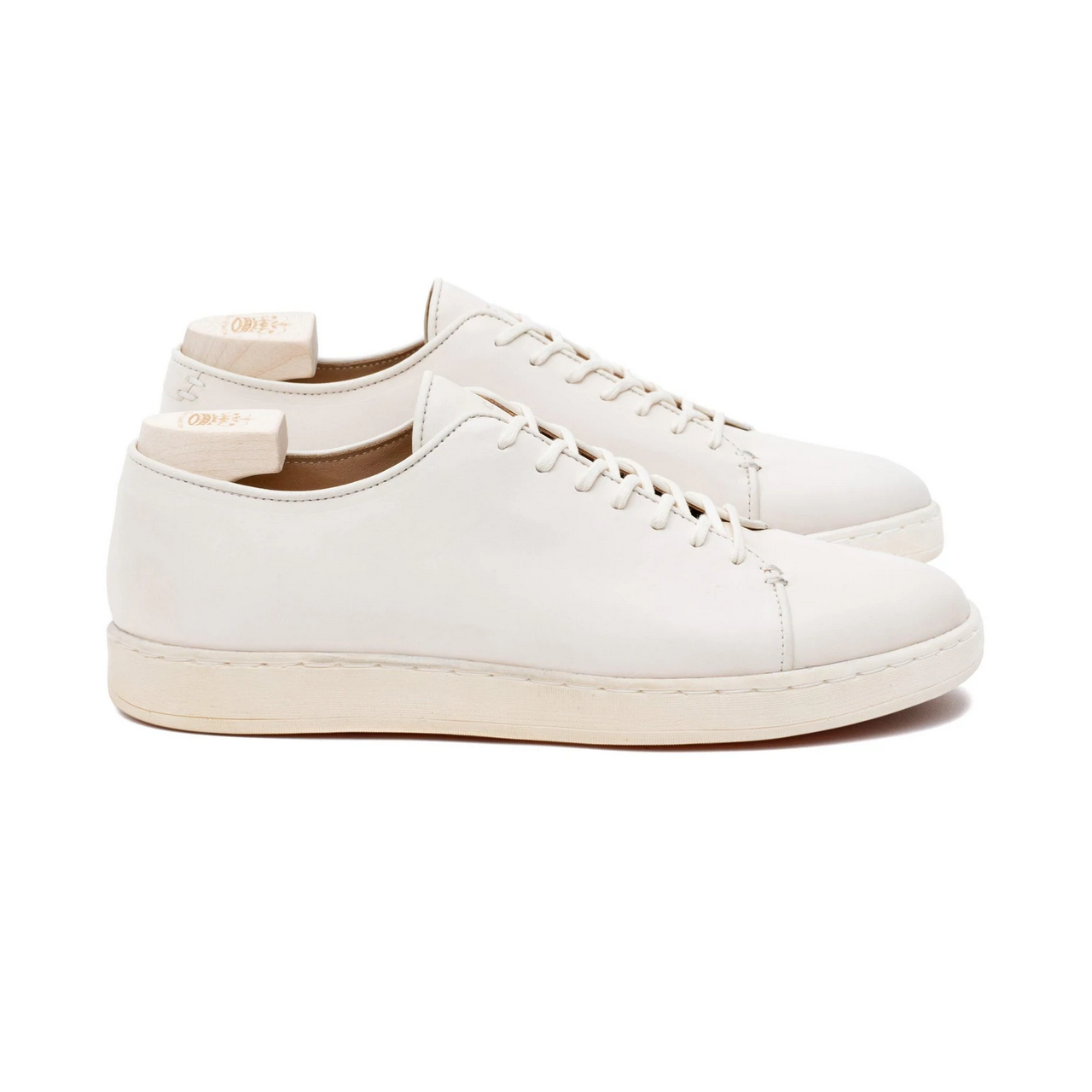 Edit: Here's a decent video showing some alternatives in this space: